Napoli
332
NAPOLI
Exclusive Napoli Tour: Street Art, Culture & Legends
WEDNESDAY, October 7th Congress. All day with Congress Bus Service 
(Free for Delegates and Accompanying)
NAPLES is one of the largest and most captivating art cities on the Mediterranean Sea. Capital of the Region of CAMPANIA it is the third-largest commune in Italy after Rome and Milan. The city dominates the GULF OF NAPLES, expanding from the SORRENTINE PENISULA to the volcanic area of the Campi FLEGREI.
It offers an extremely evocative vista of not only the imposing Vesuvian mount but also the three magnificent islands of CAPRI, ISCHIA, and Procida – three jewels that rise like Venus from the sea. Besides its gorgeous scenery, Naples owes its much-deserved fame to the charm and intrigue of its historic center – a historic center that counts 2500 years of a fascinating existence.

Naples is a magical city, a fertile land of ancient traditions, the cradle of myths and legends that have their roots in a millennial past of a very special popular culture. Superstition and respect for religious and secular rites and traditions, inherited from generation to generation.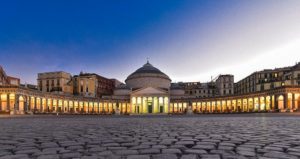 Updated on