---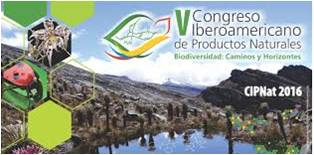 The V Iberoamerican Congress of Natural Products 2016 is a biannual meeting and information point for reporting advances in Natural Product Chemistry, its applications and Ecological interactions. The intention of this conference is to provide an intimate and relaxed environment, to stimulate fresh thinking and creative ideas, in a scientific field impacting so importantly on life and medical sciences. The congress will also highlight the key role of Chemistry in the discovery and development of new phytotherapeutic agents for human diseases, pest control and cosmetology. Each theme brings together a large group of leading individuals to discuss the most relevant issues at the moment.
The event will be sponsored by the Universidad Nacional de Colombia-Bogotá, co-organized by Colombian Society of Chemical Sciences (SCCQ). This congress will be hold in Bogotá, Colombia, South America, located at 2600 meters nearer the stars and will be celebrate at the Tequendama Crowne Plaza Hotel.
We look forward to hosting you in Bogotá, Colombia.
Sincerely,
Barbara Moreno-Murillo
President of Organizing Committee.